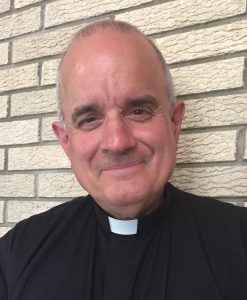 Hello Parishioners,
I grew up on a farm near Britt in north-central Iowa and graduated from Britt High School in 1973.  I graduated from Iowa State University in 1977 with a B.A. in political science and history, and then graduated from the University of Iowa Law School in 1980.  After working for four years in Des Moines (mostly as a law clerk for the Iowa Court of Appeals), during which time I had been thinking more and more about the priesthood, I began my theological studies at St. Mary's Seminary in Baltimore MD in 1984 and was ordained as a Catholic priest for the Archdiocese of Dubuque in May of 1988.
I was associate pastor at St. Francis Xavier in Dyersville (1988-90), principal of Newman High School and associate pastor at St. Joseph in Mason City ((1990), and associate pastor at St. Joseph in Marion (1990-94; and also at St. Isidore in Springville 1993-94).
I served as pastor in the three Catholic parishes in Winnebago County from 1994 to 1996 (St. James in Forest City, St. Patrick in Lake Mills, and St. Patrick in Buffalo Center), then as pastor of St. Mary in Marshalltown (1996-99).  From 1999 to 2004 I was pastor at St. Edward in Waterloo, followed by two years as pastor back in Dyersville as well as St. Paul in Worthington.  In 2006 I returned to St. Edward in Waterloo where I again served as pastor until July of 2014.  In 2014 until my assignment at Holy Rosary Cluster on June 5, 2018 I served as the spiritual director for St. Pius X Seminary — the young men at Loras College in Dubuque who are in college-level discernment and formation for priesthood.
I am very happy to be here and I look forward very much to getting to know you.
In Christ,
Fr. Jerry Kopacek